Trusted by over 1 Million Home Owners
Get your cash offer from We Buy Houses today!
Recent News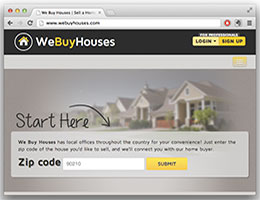 We Buy Houses, the original cash home buyer launches a new web site to assist home sellers who want to sell quckly for cash. As the only official "We Buy Houses" company, WeBuyHouses.com works with home owners who want to sell their home anywhere in the United States.
Reviews
It's so easy! I just entered my name and address and the items that needed to be fixed, answered four or five questions about my house, indicated how much cash I want for my house and the fact that I wanted to cash out now - and the We Buy Houses guy called me that very same day to come see my house!
J. Brown

Missouri
I submitted my information that I want to sell my house, on the WeBuyHouses.com website on a Tuesday night. By the next afternoon, your local area investor called me and made an appointment for the following day. By Friday I had an acceptable offer, a contract and a deposit. Thanks!
D. Sheperd

Washington